Weaving
Mahroz Textile Industries has an extensive weaving set up having variety of machines including Power, Auto, Shuttles and Air jet which produce an enormous variety of fabrics having multiple weaves from 1/1 plain weave to jacquard in different widths ranging from 36 inch to 153 inch with maximum thread count of 1000 threads per square inch. The inventory of more than 300 machines is fully equipped with various kinds of secondary and auxiliary equipments to produce Dobbies, Jacquards and Seer sucker weave patterns.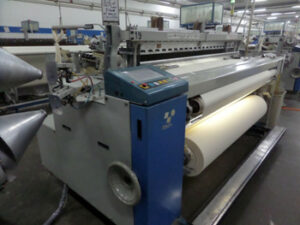 A team of competent, experienced, and skilled professionals including textile and mechanical engineers in weaving division work together to make quality products for customers. The company has a large stock of greige fabric and maintains an inventory of 5 million meters fabric for its regular customers.
The fabric is prepared under comprehensive quality control parameters based on "Four Points Inspection System & quot; it operates right from raw materials input quality level to the end product according to the requirement of our worthy customers. The prime objective is to provide quality products and to ensure on time deliveries.
Singeing & Preparation
Singeing is the first process and is that which determines the ultimate pilling of the finished fabric. The recent acquisition of new singeing machine ensures that we can obtain the very best possible results and allow us to achieve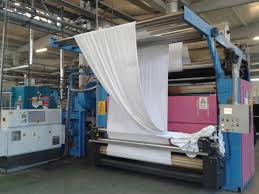 pilling levels of 5 where required. Our modern Singeing machine from Osthoff is quite simply "the best that money can buy"
Bleaching & Dyeing
Bleaching:-
We have the option of bleaching on either the state of the art open width bleaching plant or the traditional kier bleaching system. We consider having the both these options very important as this gives us choice of bleaching method depending on the quality of fabric and client requirements.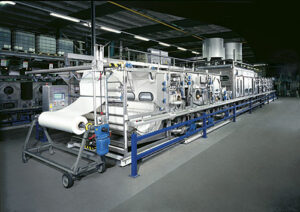 Dyeing:
Our dyeing department consists of open width dyeing systems for dyeing 100% cotton and poly cotton fabrics using direct disperse, reactive and VAT dyes. We use the best available colors to ensure excellent wash results in every class of dyes
Printing & Finishing
Printing:
Our Printing Unit is equipped with a Reggiani Printing Machine capable of producing 20 colors in repeats of 640mm,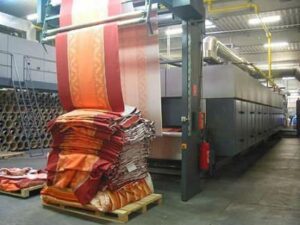 820mm, 914mm and 1018mm. We also added a two color Reggiani strike off table to ensure a good match between samples and production. This printing machine is widely acknowledged to be the best in business and our prints quality has been highly appreciated by our valued clients all over the world.
Finishing:
Mahroz Textile Industries has a range of excellent stentering machines from Brockner with fully automatic controls. These can be used for batching and finishing of fabric having Mahlo weft straighter at entry and
exit points to avoid bowing and skewness.these are equipped with infra red which helps in pigment dyeing in
pastel and medium shades.
Chintz Peaching
Wrinkle Free
Teflon Finish
Sanitized Finish
Water Repellent
Fire Retardant
Down Proof Finish
Silky Flash Soft Finish
Non Iron Finish/Easy Care
Cutting & Stitching
We have long forecasted the shift of business towards finished and have tailored our production capacity accordingly. Our capabilities and capacities include latest folding machines range with wrapping facility. more than 300 stitching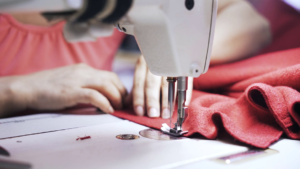 machines with the capacity of producing various kinds of stitching items .The facility has the capability of various stitching techniques at the highest production level and of producing all kinds of Applique, made-ups of all types i.e., bed linen, quilt covers, sheet sets , pillow cases, curtains and kitchen linen. For this purpose, we have designed an in-house systematic training system for a cutting & stitching skilled labor force.